With a growing customer base, we are seeing an increasing amount of people that are discarding one machine on which they have used Song Surgeon and replacing it with a new machine.

 As you may recall, your purchase of Song Surgeon entitles you to activate the program on as many as 3 machines at once. However, if you have previously activated three machines, and then discarded one of these machines and purchased a replacement, there has been no way for your to activate this 4th machine without first contacting us via the Help Desk.

 To make this process more convenient for you, we have added the ability to remove a machine from your record, in the "My Account" page found on our website. The My Account tab can be found in the top nav bar from any page of the web site. Click this tab, log in with the credentials you used when you purchased.


Once you log into your account, you will see a new section for "Remove License for Old Machine".
An example snapshot is shown below.

Â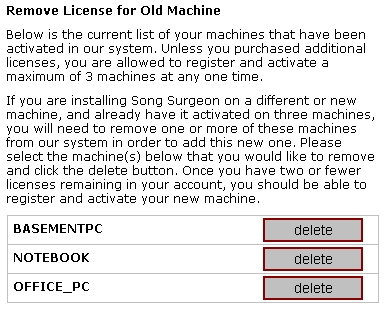 In the example above you would select the machine name you have discarded or want to deactivate, and click the Delete button.

This will remove the machine, leaving two remaining machines, and one "unused" activation that can now be used for your new machine, which you would register and activate in the normal way. That is, after installing Song Surgeon on this new machine, on first run, select... "I am a customer", and then enter your order credentials to register and activate the machine.